Work out for 1 hour, burn for 36!
The BURN WORKOUT, the Best Workout on the Planet!
Whether you are just getting started, want to lose weight or have been a workout "fanatic" for a long time, The Burn Workout will take you to an intensity that is right for your body. Be prepared to feel motivated, workout in a group setting and move your body at the proper intensity for you. The Burn Workout combines the use of treadmills, Octane ellipticals, TRX training, functional training equipment and the My Zone heart rate system to offer an amazing workout guaranteed to get you results with regular participation.
Heart Rate Based Interval Training
Backed by the science of Excess Post-Exercise Oxygen Consumption (or EPOC), The Burn Workout utilizing heart rate monitored training is designed to maintain a target zone that stimulates metabolism and increases energy. This is called "afterburn." Participants burn an estimated 500 - 1000 calories in 60 minutes.* Plus they keep burning calories for up to 36 hours.**
* Individual results may vary ** Based on intensity level of the workout, participants  may burn 15-20% more calories above standard resting calorie burn.
1. A heart rate monitor is synced to you as you workout.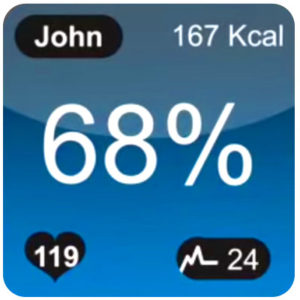 2. Heart rate, heart rate effort, calorie burn, and points are scored in real time.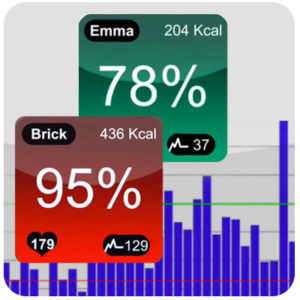 3. Your metabolism is ignited at 83% of your max heart rate. Your effort level is viewed on the screen with different colors.
4. Your workout will upload at the end of the workout with the MYZONE technology to track your workouts.
Personal Trainer Support
At Zone Fitness Clubs, you will get a certified Personal Trainer guiding you in a small group. Our  trainers are knowledgeable, motivating and committed to helping you meet your fitness goals and provide you with the proper exercise instruction to get you the results you are looking for.
Group Training Area
Top-of-the-line equipment, motivating, up beat music and a motivational Personal Trainer is what makes the Zone Workout an energetic, fun workout.  We have treadmills, ellipticals, rowing machines, suspension units, free weights, benches, smash balls, kettlebells and much more for up to 12 people to get a kick butt workout at the intensity that is correct for your body.
Get Ready to Experience The Best Workout on the Planet!
Membership Plans to Meet Every Need
Ready to change the way you look, feel and your life? Our affordable group training options will help you live longer, be stronger and enjoy a more vibrant future.
BURN 4:
4 sessions per month, month to month, NO CONTRACT*!
BURN 8:
8 sessions per month, month to month, NO CONTRACT*!
BURN 12:
12 sessions per month, month to month, NO CONTRACT*!
BURN PREMIER PLUS:
Unlimited sessions per month, month to month, NO CONTRACT*!
(select clubs only)